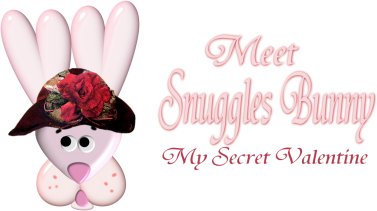 This is Snuggles Bunny, my RAOK secret valentine, and all week long she (or he -- oh I hope not! In that hat?) has been sending me the most darling little gifts and cards! I would like to share them with you -- cuz I am one spOiled little girl!

Day One
Snuggles Bunny knew (I think cupid tol' her!) that I Love Teddy Bears and Chocolate. She started me out right from the beginning!!! On the very first day she sent me this darling little adoption...

and a big ol' box of chocolates!!!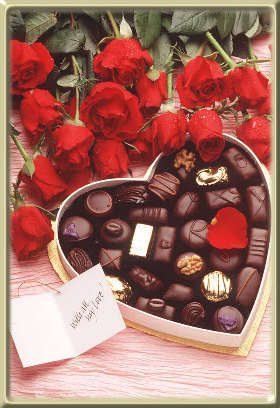 Mmmmm!

Day Two
Did I mention I love bears??? I got another one!!!
As a matter of fact... I got two!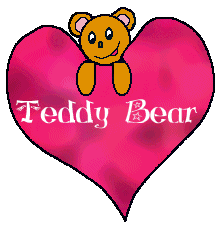 And a card with this adorable little guy on it!!! Oh, I just love him!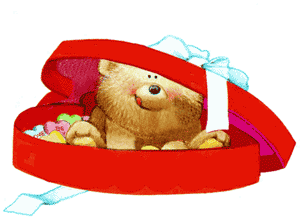 But wait! There's more! I got this nice little note too...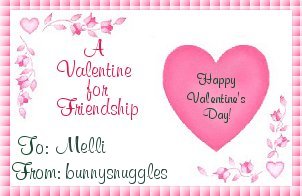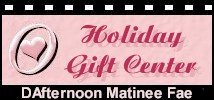 Day Three
On the 3rd day of Valentine's my true love sent to meeeeee...
Oh! Sorry... This little bear! I can't link him to the card site... cuz it's a private on... just for RAOK members. But... if you wanna join RAOK (random acts of kindness) click him and he'll show ya what to do!
(she also sent me a very flirty little French girl -- I shared her with hubby!)

And a Cookie... from Granma Hugs! My favorite!



Day Four Oh Snuggles Bunny was a Bizzy Little Bunny today!!! I started my morning off with a Love Quiz!!! Spitting & sputtering over red undies or leather while I drank my coffee! LOL!
Then I got this darling little she-bear in the mail!

I really love this little bear!
A little while later I received this Heart Throb in the mail.


And then this one...

And... then another interactive card too!
Snuggles Bunny ... YOU'RE the BEST!!!

Day Five
Yummy! More Cookies from Gramma Hugs Bake Shop!
If you'd like some, she makes them hot and fresh daily!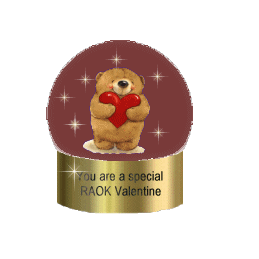 This adorable water globe from raok, and...

I believe I am quite spoiled!
Whoooo hoooo!

Day Six
Well, SB sent me these two little dolls to keep me company!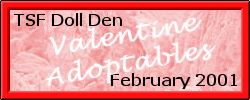 And this darling little shadow box!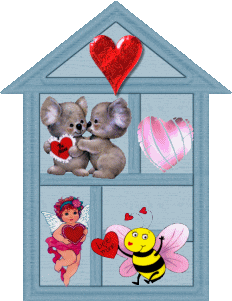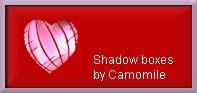 (almost looks like a "home" for the little girls!

At last! It's Valentines Day...
After a little playful teasing...


my secret pal finally revealed herself with this...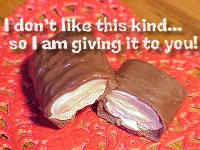 LOL! She sent me to her home page where I had a wonderful visit with she, her handsome hubby, and her adorable little boy! They told me their "Cinderella" love story!
Angiee, Thank You sooooooo Much!!!
You have made my week so wonderful!


Now, if you would like to see the gifts I've received from other friends around the web, click the hearts below!