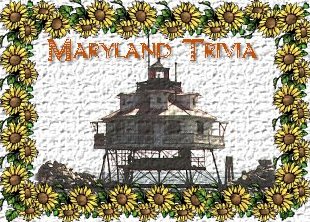 Day 1 --
Sometimes they're red, sometimes they're blue. Males are called "jimmies" and females are called "sooks". Marylanders LOVE them ... as do people from all over the world! THIS one is named after the state of Maryland. What is it?
Maryland Blue Crab
Day 2 --
Everyone knows that the Black Eyed Susan is Marylands state flower. (Yes, EVERYONE knows it!) It's bright yellow blossoms can be found growing wild in fields or planted in gardens and along highways almost everywhere east of the Rockies! But... did you know that it is mostly used for "bug guards" near fields and houses? WHY?
Because the hairy stem makes it
difficult for insects to climb.
http://www.sru.edu/depts/srasd/6grade/MCampbel.htm
(this site is a 6th grade middle school students report! BUT... it was the first site to pop up when I typed in "Black Eyed Susan"! I ended up accepting any and all "reasonable" answers that came with proof or matched proof that I had already received... sorry 'bout that!)
Day 3 --
The Chesapeake Bay Bridge is officially called the William Preston Lane, Jr., Memorial Bridge. shore-to-shore length of 4.3 miles, Horizontal clearance is 1,500 feet, vertical clearance is 186 feet. For one day each April or May, the Eastbound span of this bridge is CLOSED. Why?
For Bay Walk
Day 4 --
Perhaps the most photographed lighthouse in The Chesapeake Bay, this one is the last screwpile structure left on its original site in the bay. It went into service on November 27, 1875. A screwpile with a hexagonal 1-1/2-story building perched on the spidery legs, the light's lantern rises out of the center of the building. During its early years floating ice tipped over the fourth-order lens in the lantern. In time heavy riprap was placed around the lighthouse to fend off the ice. With its red roof and white sides this picturesque lighthouse is a fine example of its type. The light and fog signal, both now automated, are still active. This was the last staffed lighthouse in the Chesapeake Bay. Name it.
The Thomas Point Shoal Lighthouse
Day 5--
One of my very favorite places to visit in Maryland is the Chesapeak & Ohio Canal National Historical Park. (The C & O Canal) The canal runs parallel to the Potomac river and You can climb on the rocks, cross the foot bridge across the river to view the water falls and pic-nic over on Olmsted Island -- or you can hike the tow-path that runs alongside the canal all the way from Georgetown in Washington DC up to Cumberland in Western Maryland! Children particularly like taking a slow and leisurley ride on the mule drawn barges that operate from Spring through early Autumn. They are great fun because the people dress in period clothing and tell delightful stories about the families that operated the barges - and they always had LOTS of children to help out! Ya think I've told ya EVERYTHING you ever wanted to know about this great place? Well... The canal raises in elevation from sea level in Georgetown to 605 feet above sea level in Cumberland. How many LIFT LOCKS are built into the canal to help the barges get UP that hill??? YOU tell me!
74 lift locks
Day 6--
September 17, 1862 is said to have been the single bloodiest day in American history. What happend on this day in Maryland? What was the GOOD that came from it?
The Battle of Antietam.
The Emancipation Proclomation.
This has been a really fun week of trivia! I've enjoyed sharing my wonderful home state with all of you! I hope you all had fun & learned a little something too! Maybe YOU would like to take a week of trivia and share YOUR home state or country! I LOVE to go visiting!!! Now... on to the winners!
Mildred
Wystful1
RaysCats
Mericier
Jan G.
RiRi
Aunt Lynnie
Flutterby
Abbitcat

Resa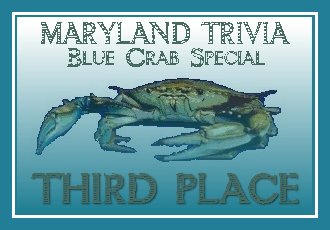 Falaria


CONGRATULATIONS TO ALL!