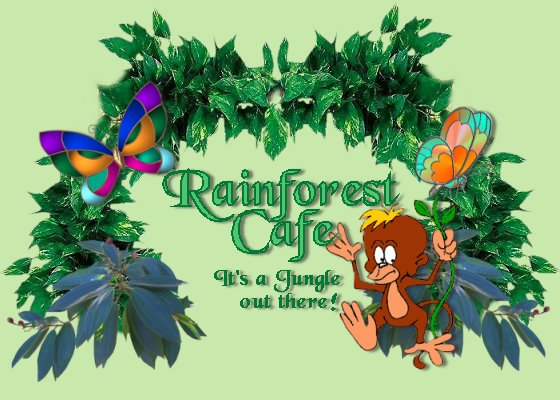 The first thing we noticed at the Rainforest was a sign outside that said "The Adventure Begins Here!" ... but we were pretty sure that OUR adventure had already begun, and they just had NO IDEA! Silly people!
| | | |
| --- | --- | --- |
| Of course, Barb ran into a CLOSE friend as soon as we got there! | | |
| | | |
| --- | --- | --- |
| | | Then, you know, Monkey see, Monkey do? Well, he wanted to play with my camera! Turns out he's a better photographer than I am! Barb and Melli with the fish... |
Finally the waiter showed us to our seats. We were NOT seated in the RAINY part of the rainforest... that was a bit of a disappointment. But we did have a delightful view of the stars! And LOTS of flora and fauna! We started the meal with a glass of iced tea -- but it couldn't match up to STARBUCKS, so we traded it in on something with a bit more birthday panash!

Of course, being the "party girls" that we are...
(our drinks were "virgin"... LOL!)

We had a crab dip for appetizer, and then crab cake sandwiches for lunch! We were feeling "crabby"! It was GREAT! But all the while we could feel strange eyes upon us!
| | | |
| --- | --- | --- |
| This baby elephant kept watch from around the corner... | | |
and
| | | |
| --- | --- | --- |
| | | This adorable kitty had a birds eye view! |
We ended the festivities with a VOLCANO!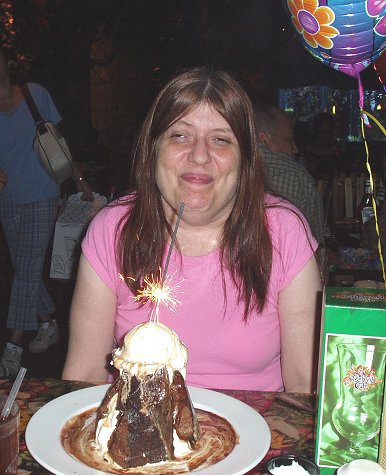 At this time all the waiter and waitresses are supposed to come clapping and sing Happy Birthday, and embarrass the living daylights out of Barb -- but the waiter apologized and said he didn't realize it was her birthday. I guess the BALLOONS weren't a big enough HINT! So I "Happy Birthday'd" her all by myself! And it was fine! Cuz NOTHING could be MORE embarrassing than having ME sing! For ANY occassion!
HAPPY BIRTHDAY BARB!!!
I love ya sweetie!